Playboy Mansion Post-Grammys Party:
Last Bash Ever in the Grotto?
By Shay Holland for Spygame TV
Right after the 58th Grammys, stars flocked to Playboy Mansion for what could be the last bash at the iconic estate now that Hugh Hefner is selling the famed property.
Reporter Shay Holland covered the event for SpyGame TV.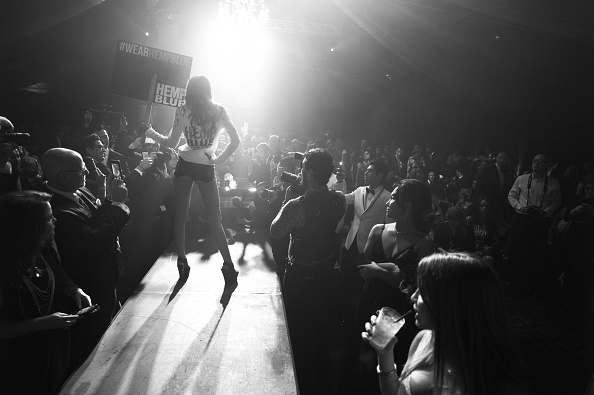 Rap superstar Sean Diddy Combs hosted the exclusive Grammys after party at Playboy Mansion. The charity gala benefiting Community Inspiring Today's Youth (CITY) was the night's hottest ticket, with celebrities shelling out $25,000 for VIP cabanas.
Featuring a theme of inspiring youth to overcome challenges, keynote speaker Richard Branson of Virgin Group talked about growing up with dyslexia. The inspirational discussion was moderated by former Playmate Jane Seymour.
Renowned for decades of fabled parties, Playboy founder Hugh Hefner has hosted legions of Hollywood A-listers, notable guests and Playmates at the iconic Mansion. Now that the property is on the market – asking price: a whopping $200 million – this may be Playboy's last act at the grotto.
Tonight's event honored legendary astronaut Buzz Aldrin along with  business tycoon and philanthropist John Paul DeJoria of Paul Mitchell and Patron Spirits Company. Pop star Jeff Timmons of the Grammy-nominated group 98 Degrees emceed the event.
The black tie fundraiser included a fashion show, auction and celebrity poker tournament with Backstreet Boys singer AJ McLean, actor Carl Weathers – Apollo Creed in "Rocky," and UFC Champion Chuck Liddell. Live performances showcased DJ Paul Oakenfold, Robert "Kool" Bell, Chanel West Coast, The Stafford Brothers and DJ Sarah Robertson.
As the party peaked, crowds threatened to overrun security and guards shut down the entrances to prevent gate-crashers.
Proceeds from the event benefit CITY, a non-profit organization that helps underserved Los Angeles teens and young adults start their own businesses.